Home / The Treasure of Pirate's Cove: Math Mysteries Series
The Treasure of Pirate's Cove: Math Mysteries Series

This item is only available for Canadian orders.
This title is a part of the series
Crimes, Capers and Whodunits: Math Mysteries Series
Catalogue Number:
600658
Producer:
Human Relations Media
Subject:
Mathematics
Language:
English
Grade Level:
6 - 8
Country Of Origin:
U.S.
Copyright Year
: 2015
Running Time:
11:00
Closed Captions:
Yes
The Treasure of Pirate's Cove is a unique interactive math mystery that combines video clips and print material - all the clues your students will need to solve this engaging and challenging mystery.
This mystery covers the Geometry domain: Solve real-world and mathematical problems involving area, surface area and volume.
In 1799, Captain Jack buried a treasure in the small seaside town of Bell Harbor. He left clues in the form of math riddles in his journal and on a map. One clue – the ship's sextant – contains crucial code, and has never been found, and neither has the treasure. Then, almost as soon as 15-year-old Suzy Simpson discovers it, the sextant is stolen. Who took it? The prime suspects are three local treasure hunters. And there's also a talking parrot named Macduff, who provides a clue or two. Now it's a race between your students to do the math and find the gold before the culprit absconds with it.
Includes Resource Guide.
GUIDE
MORE RESOURCES



---
Related Titles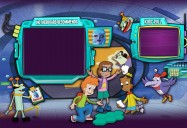 Cyberchase: Geometry
PBS Video
041128
Power up math lessons exponentially with this exciting Cyberchase compilation. Four programs that...