Home / Killarney Provincial Park: A Park For All Seasons Series
Killarney Provincial Park: A Park For All Seasons Series
This title is a part of the series
A Park For All Seasons Series
Killarney is Ontario's smallest and most accessible wilderness park. Killarney is widely recognized as one of the most outstanding scenic landscapes in Ontario. The park is renowned for the scenic beauty of its high, white quartzite ridges and clear blue lakes. The rugged terrain and abundant bedrock outcrops combine to provide a multitude of scenic panoramas. The park has one of the most rugged landscapes in Ontario. Park visitors can view wildlife such as deer, moose, black bears, wolves, foxes and beavers.
Featuring beautiful Fall colours, the topis covered include acid rain and Canada's collective of landscape painters, the Group of Seven.
---
Related Titles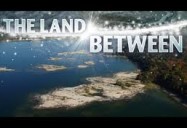 The Land Between Series
The Living History Multimedia Association
LIV005
This visually spectacular, three-part, high-definition documentary series explores the newly...