Home / Crowing Pains: The Mooh Brothers
Crowing Pains: The Mooh Brothers

This item is only available for Canadian orders.
This title is a part of the series
The Mooh Brothers (Season Two)
While having a tug-of-war over a worm with Rosco, Bosco gets thrown backward and ends up stuck in a mousehole. Roscoe tries to get him out but can't and flies to get help, but no one believes him. Meanwhile, Mouse shows up and tickles Bosco. Bosco strikes a deal with the Mouse to help him get out. When the brothers finally go to rescue Bosco, Mouse has already gotten him out. Promising not to tell lies for a month, Roscoe and Bosco fly a big plate of cheese to Mouse.
---
Related Titles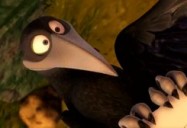 Crow Trouble: The Mooh Brothers
Breakthrough Entertainment
BTE200
Two trouble-making crows, Roscoe and Bosco, arrive at the Mooh Farm in the middle of the night...