Home / Phantom Menace: W5
Phantom Menace: W5
W5's Victor Malarek speaks with Steve de Jaray, a Vancouver businessman who was accused of arms dealing by the Canadian government. Steve de Jaray was secretly paid $10 million by the Canadian government when its case fell apart. How did Ottawa get it so wrong?


---
Related Titles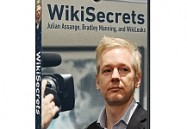 FRONTLINE: Wikisecrets: Julian Assange, Bradley Manning, and...
PBS Video
041413
Behind the leaking of more than half-a-million classified documents on the Wikileaks website stand...