Home / Battle Tested: W5
Battle Tested: W5
W5's Kevin Newman sits down with new Defence Minister Harjit Sajjan about how his past in policing and the military will guide his future.
The Defence Minister speaks about the government's plan to cancel the purchase of F-35 stealth jets and send troops to fight ISIS.

---
Related Titles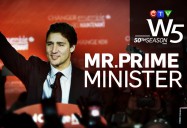 Mr. Prime Minister: W5
CTV
CTV667
An exclusive interview with Prime Minister Justin Trudeau just days after he led the Liberal Party...
Air Rage: W5
CTV
CTV562
The purchase of F-35 fighter jets may be Canada's most costly defence purchase ever, but will the...