Home / Conversations with Kim Campbell
Conversations with Kim Campbell
This title is a part of the series
Conversations with Canada's Prime Ministers
Kim Campbell was born on March 10, 1947, in Port Alberni, British Columbia. She was the first woman in Canadian history to be Prime Minister, serving in office form June 25 to November 4, 1993. Before becoming Prime Minister, Ms. Campbell was the Minister of Justice and Attorney General of Canada from 1990 to 1993. During that time she amended the Criminal Code of Canada to make improvements in the areas of firearms control and sexual assault laws. In this segment, various family members and colleagues discuss Campbell's personality and her legacy.
---
Related Titles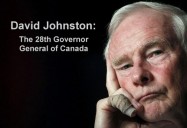 David Johnston: The 28th Governor General of Canada
CTV
CTV490
Canada is a "barn raising" nation with a strong history of neighbours looking out for each other...