Home / Love and Legacy - The Rob Stewart Story: W5
Love and Legacy - The Rob Stewart Story: W5
An acclaimed Canadian filmmaker and shark conservationist, Rob Stewart changed the way much of the world perceives sharks. His films reached international audiences and forcefully argued that sharks have been unfairly characterized as human killers and instead require protection from humanity.
As Stewart's voice-over intones in "Sharkwater Extinction," "450 million years of shark presence on Earth has been decimated in 30 years — their population decreased by 90 per cent."
Stewart's message of shark conservation also stemmed from a concern over human survival. He theorized that decimating populations of the oceans' apex predators would lead to an explosion in fish populations– putting phytoplankton, responsible for much of the world's oxygen supply, at risk.
In his first film, "Sharkwater" (2006), Stewart exposed the brutal shark fin trade. At that time, sharks were being mercilessly butchered — almost solely for their fins, to be used primarily in shark fin soup — a Chinese delicacy.
"Sharkwater" was an international sensation. It influenced bans and restrictions on shark fins in more than 90 countries and galvanized support for shark conservation.
After seeing the movie, diver Brock Cahill was moved to reach out to Stewart. An instant friendship was formed and Cahill would accompany Stewart on many dives and expeditions — including some filmed for "Sharkwater Extinction."
---
Related Titles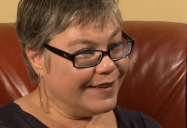 The Ocean in Peril: Alanna Mitchell - The Green Interview Series
Paper Tiger
PT0036
Interview with Alanna Mitchell, an award-winning Canadian author and journalist and engaging...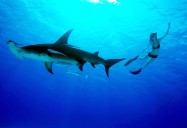 Sea of Life
Oceanic Productions
OP0000
The ocean produces most of the oxygen in the air that we breathe. It's home to 80% of all life on...