Home / Let's Face It!: The Prime Radicals (Season 1)
Let's Face It!: The Prime Radicals (Season 1)

This item is only available for Canadian orders.
This title is a part of the series
The Prime Radicals Series (Season 1)
Catalogue Number:
GAP031
Producer:
GAPC Productions
Subject:
Mathematics
Language:
English
Grade Level:
PreK - 2, 3 - 5, 6 - 8
Country Of Origin:
Canada
Copyright Year
: 2011
Running Time:
15:00
Uncle Norm is going to a masquerade ball and he needs a mask. Problem is, he doesn't know where to start. Kevin and Alanna turn to a photographer for help. He teaches them about bilateral symmetry. By taking cool photographs of Alanna's face, we see that both sides of the face are not created equal.
The Gist: This episode is about bilateral symmetry and geometric mirror images, and introduces the bilateral category of animals (including humans) that are more or less left/right symmetric and the vertical mirror line (or sagittal plane), which divides the body into two halves of equal proportions.
---
Related Titles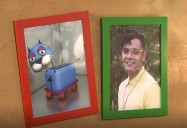 Symmetry: Look Kool (Season 1)
Apartment 11
APT106
An object is symmetrical when one side of its centre axis is a perfect reflection of the other...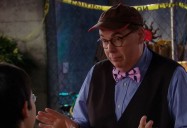 Go Fly A Kite!: The Prime Radicals (Season 2)
GAPC Productions
GAP075
Alanna and Kevin hear woeful sounds emanating from the Workshop where they find Uncle Norm all...