Home / Rites - Navjote: Rites of Passage Series
Rites - Navjote: Rites of Passage Series
This title is a part of the series
Rites of Passage
All culture traces back to Africa. This episode follows the search for lost identity. What does it mean to be a Black person in a society that has no real race or cultural Rite of Passage? A dedicated group of people help guide those thirsting for knowledge of their ancestry and public affirmation of their African roots, by taking them through specific West African rituals designed to help them find enlightenment. Also in this episode...Zoroastrianism is one of the world's oldest religions, dating back 2500 years before Christ. The ceremony welcoming a 12 year old boy into the faith is not only significant culturally, but it is about growing from adolescence to taking the first steps to adulthood.
---
Related Titles
Aboriginal Rites: Rites of Passage Series
Left Field Entertainment
LFE013
Elder Steve Kejick of Shoal Lake First Nation Band 39 on the Ontario Manitoba border describes the...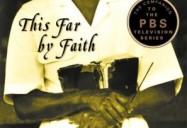 This Far By Faith: African-American Spiritual Journeys
PBS Video
040017
This six-part documentary dramatically interprets the African-American religious experience. The...