Home / Hindu Sanskars (Program 4): Rites of Passage Series
Hindu Sanskars (Program 4): Rites of Passage Series
This title is a part of the series
Rites of Passage
Hinduism places great stress on daily living and on the actions one performs. Each action can be classified as good or bad, these are called karmas. Each good karma is called a sanskar and each sanskar involves a religious ceremony that involves an outward sign of spiritual grace. In this episode, we examine ten sanskars, following the circle of life from birth to death.
---
Related Titles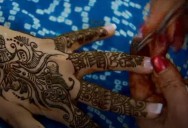 Hindu/Orthodox Wedding (Program 1): Rites of Passage Series
Left Field Entertainment
LFE002
Mixed marriages in a secular society are not uncommon, in this episode, however, we follow a couple...