Home / The Mystery of San Nicandro
The Mystery of San Nicandro

This item is only available for Canadian orders.
A timeless story about identity, family and belonging. At first glance, The Mystery of San Nicandro is a compelling narrative about a messianic southern Italian character that had a mystical vision in the 1920s that resulted in the only mass conversion to Judaism in modern history. But it is much more than that.
This film is the first to document the strange revival of Judaism in the most Catholic country of the world and how North American influence is stoking these flames. This mysterious thread running through the vibrant Italian tapestry will highlight the deep meaning of history, culture, belonging, and identity in the seemingly rootless western world.
---
Related Titles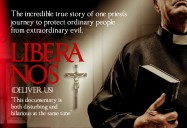 Libera Nos
Indiecan Entertainment Inc.
ICE011
Claims of Satanic possession are increasing around the world. In meeting the demands of those...