Home / The Day Henry Met...The Mountain
The Day Henry Met...The Mountain

This item is only available for Canadian orders.
This title is a part of the series
The Day Henry Met Series One
Henry meets a friendly Mountain. He has a nasty itch that he just can't scratch and it's up to Henry to save the day. Henry becomes a Mountain Climber for the day, before making it to the top and scratching Mountain's itch.
Henry is a young boy who desires to learn something new in his everyday life. In each episode, he meets a new object and his imagination comes to life as he learns more with each new encounter. Henry creates so many friendships and everyone he meets is eager to help him find the answers to every new question.
GUIDE



---
Related Titles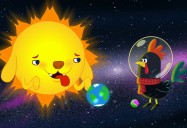 Fire in the Sky: Brewster the Rooster Series
Monster Entertainment
MON020
Brewster and Maggie help Hamish with his wagon. It is very hot and Hamish wonders 'How does the...