Home / From Brownfield to Greenspace: Sustainable Urban Land Use
From Brownfield to Greenspace: Sustainable Urban Land Use

This item is only available for Canadian orders.
Using the example of a former landfill site, From Brownfield to Greenspace: Sustainable Urban Land Use creates an understanding of the opportunities to convert contaminated land, called brownfields, to urban greenspaces. Through various learning experiences, students can understand what a brownfield is and how it can be remediated and converted to urban greenspace. They can develop the necessary critical thinking skills to make informed decisions about the opportunities of rehabilitating disused land and the impact of greening and greenspaces on people, wildlife, communities, and the environment. Resource Guide Available.
---
Related Titles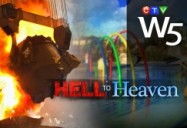 Hell to Heaven: W5
CTV
CTV609
W5's Todd Battis investigates how what was once considered the most toxic spot in North America was...