Home / The World of Politics and the World of Science: Andrew Weaver - The Green Interview Series
The World of Politics and the World of Science: Andrew Weaver - The Green Interview Series

This item is only available for Canadian orders.
This title is a part of the series
The Green Interview Series
Catalogue Number:
PT0062
Producer:
Paper Tiger
Subject:
Canadian Politics
,
Canadian Social Studies
,
Canadian World Studies
,
Civics
,
Criminal Justice & Law
,
Documentary
,
Environmental Studies
,
Global Issues
,
Politics
,
Science
,
Social Issues
,
Social Sciences
,
Social Studies
Language:
English
Grade Level:
9 - 12, Post Secondary
Country Of Origin:
Canada
Copyright Year
: 2013
Running Time:
47:00
Closed Captions:
Yes
This episode of The Green Interview features Andrew Weaver, one of Canada's leading climate scientists at the University of Victoria in British Columbia, who in 2013 made history when he became the first ever Green Party member elected to a provincial legislature in Canada. In 2007, Weaver was part of the climate-change team that won the Nobel Prize for their work for the Intergovernmental Panel on Climate Change . Weaver-now a politician-says that if our politicians behaved more like scientists and less like opportunistic lawyers, we might have a fighting chance to curb climate change. In this Green Interview, Weaver shares his insights into how politics intersect with science and how his foray into politics has deepened his conviction that political reform is a necessary step if we want to stop climate change.
---
Related Titles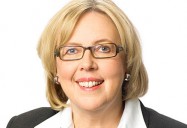 What Can One MP Do? Plenty: Elizabeth May (follow-up) - The...
Paper Tiger
PT0035
Interview with Elizabeth May, leader of the Green Party of Canada and Canada's first elected Green...