Home / Tara McPherson, Dan Witz, & Graham Humphries: That's Art - Episode 4
Tara McPherson, Dan Witz, & Graham Humphries: That's Art - Episode 4
This title is a part of the series
That's Art Series
Catalogue Number:
BAM067
Producer:
Blue Ant Media
Subject:
Arts
Language:
English
Grade Level:
9 - 12, Post Secondary
Country Of Origin:
Canada
Copyright Year
: 2012
Running Time:
24
Closed Captions:
Yes
Tara McPherson admits she was a science geek in high school, and almost gave up her art for astronomy. Once you get a look inside her studio, you'll be glad she stuck with the art! Dan Witz is a legendary bad boy in the world of street art. He shares his opinions on how to behave at dinner parties and where to find the best place to put a hummingbird. And while Graham Humphries lives in a world of zombies and serial killers, That's Art?! discovers he's not such a bad guy once you get to know him.
---
Related Titles
Art 21: Art in the Twenty-First Century: Collection (Seasons 1-6)
PBS Video
041593
Meet the most dynamic artists of our time - direct, accessible, and unfiltered - in the...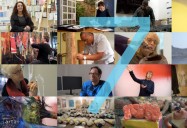 Art 21: Art in the Twenty-First Century: Season 7
PBS Video
041736
Season Seven features twelve artists from the United States, Europe, and Latin America, in...