Home / Marc Silvestri, Susan Trianos, & Zab Hobart: That's Art - Episode 9
Marc Silvestri, Susan Trianos, & Zab Hobart: That's Art - Episode 9
This title is a part of the series
That's Art Series
Marc Silvestri is one of a handful of artists that had the courage to shake up the status quo. He faced off with Marvel Comics and DC Comics… and twenty years later… he's still doing it his own distinct way. Susan Triano makes the most beautif and delicious cakes you've ever seen. From birthdays to weddings to corporate galas, and she does it all with a flourish. And Zab Hobart makes wallpaper unlike anything you've ever seen. She uses letters and numbers the way other artists use patterns and pictures. It is an incredibly unique approach to decorating your home.
---
Related Titles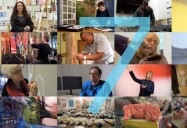 Art 21: Art in the Twenty-First Century: Season 7
PBS Video
041736
Season Seven features twelve artists from the United States, Europe, and Latin America, in...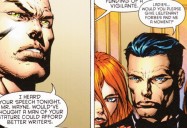 David Finch, Dave Johnston, & Nikole Lowe: That's Art - Episode 7
Blue Ant Media
BAM070
David Finch dropped out of high school in Grades 11. Twenty years later he is one of the super...