Home / Kim's Story
Kim's Story

This item is only available for Canadian orders.
If there was a photograph that captured the horrific nature of the Vietnam War it was that of a nine-year-old girl running naked down a road, screaming in agony from napalm burns. In telling Kim's story, Shelley Saywell makes poignant use of news footage of that time, when the dreadfully wounded little girl ran to journalists at the scene for help, help that was extended heroically. She interviewed the doctors and journalists who 25 years ago ensured Kim's survival.
Saywell accompanies Kim Phuc on a remarkable odyssey to Washington's Vietnam memorial Wall, as part of the U.S. Veterans Day ceremonies. There, dignitaries struggled to hold back the tears as Kim, still in their minds the little girl, made it clear that her mission was one of forgiveness and a wider healing.
"What is so moving about Kim's story is its frank simplicity and Saywell's uncommon meticulousness in ensuring that each important detail is touched upon. In its climactic moment Saywell makes us realize Kim has grown beyond the photographic iconography." - Toronto Star
"Powerful" – Critic's Choice, The Times, UK
"Outstanding" – The Toronto Star
"Poignant and important" – L.A. Times/Washington Post
"Not to be missed" – Boston Globe
"Moving and Inspirational" – The Daily Mail, UK

---
Related Titles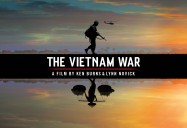 Ken Burns: The Vietnam War (School Edition)
PBS Video
041893
This special version just for educators features the complete 10-part, 18-hour series, edited for...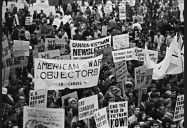 Vietnam: Canada's Shadow War
Merit Entertainment Inc.
MEI005
Few people know it, but when it comes to the Vietnam War, Canada was a nation of enablers. While...