Home / Conversations with Stephen Harper
Conversations with Stephen Harper
This title is a part of the series
Conversations with Canada's Prime Ministers
Stephen Harper was born on April 30, 1959, in Toronto. In 2006 Mr. Harper was elected as Prime Minister of Canada and would remain in office until 2015. Mr. Harper's priority as Prime Minister was to secure Canada's economic recovery. He successfully brought the federal tax burden to its lowest level in half a century, and with the budget balanced in 2015, the Canadian Government was able to provide greater tax relief and increased benefits for Canadian families. In this segment, Stephen Harper discusses The House of Commons, taxation issues, the war in Iraq, the environment and the Canadian/U.S. relationship.
---
Related Titles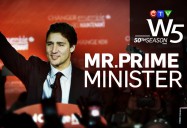 Mr. Prime Minister: W5
CTV
CTV667
An exclusive interview with Prime Minister Justin Trudeau just days after he led the Liberal Party...