Home / Conversations with Paul Martin
Conversations with Paul Martin
This title is a part of the series
Conversations with Canada's Prime Ministers
Paul Edgar Philippe Martin was born on August 28, 1938, in Windsor, Ontario. He was prime Minister of Canada from December 12, 2003 to February 5, 2006. During his time as Canada's Minister of Finance, from 1993 to 2003, he recorded five consecutive budget surpluses. He was also the inaugural chair of the Group of Twenty (G20) from 1999 to 2001. In this segment, Paul Martin discusses his agenda items, the Star Wars Program, the Missile Defense Shield and the Canadian/U.S. relationship.
---
Related Titles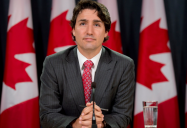 Canada's 23rd Prime Minister: An Introduction to Justin Trudeau
McIntyre Media Inc.
MCI088
Justin Trudeau was elected Canada's 23rd Prime Minister on October 19th 2015. He is the eldest...