Home / Our Canada: The Canadian Shield
Our Canada: The Canadian Shield
This title is a part of the series
Our Canada: Its Geographic Regions Series
The largest of Canada's geographic regions, the Shield is a massive horseshoe shaped area covering almost half of Canada. Made famous by the paintings of the Group of Seven, it is a landscape shaped by glaciers during the Ice Age. The rounded hills of igneous and metamorphic rock have been eroded and smoothed over time. Within these rocks lie minerals such as gold and silver. The Shield has been home to Aboriginal people for thousands of years. Today, they fight to maintain their culture as mining and hydroelectric stations threaten their traditional way of life.
Includes PDF Resource Guide.
---
Related Titles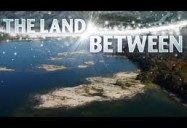 The Land Between Series
The Living History Multimedia Association
LIV005
This visually spectacular, three-part, high-definition documentary series explores the newly...